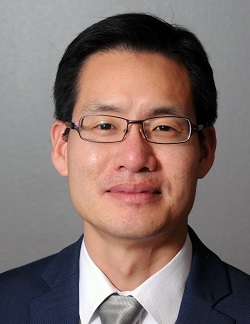 Department
Politics
School
School of Arts and Sciences
Expertise
International Relations
East Asian Regionalism
U.S. Grand Strategy
Narratives and Discourse
Civil Society
Korean Politics
Biography
Andrew Yeo is a Professor of Politics at The Catholic University of America in Washington, D.C., and also a Senior Fellow and the SK-Korea Foundation Chair at the Brookings Institution's Center for East Asia Policy Studies. He is the author or co-editor of five books: State, Society, and Markets in North Korea (Cambridge University Press 2021); Asia's Regional Architecture: Alliances and Institutions in the Pacific Century (Stanford University Press, 2019),  North Korean Human Rights: Activists and Networks (Cambridge University Press 2018); Activists, Alliances, and Anti-U.S. Base Protests (Cambridge University Press 2011); and Living in an Age of Mistrust: An Interdisciplinary Study of Declining Trust in Contemporary Society and Politics and How to Get it Back (Routledge Press 2017). He is completing an edited volume on geostrategic competition and Chinese, Russian, and U.S. overseas military bases, and beginning a new book project on narratives and grand strategy.
His research and teaching interests include international relations theory, Asian security, narratives and discourse, the formation of beliefs, ideas, and worldviews, civil society, social and transnational movements, U.S. grand strategy and global force posture, Korean politics, and North Korea. Dr. Yeo's scholarly publications have appeared in International Studies Quarterly, European Journal of International Relations, Perspectives on Politics, Comparative Political Studies, Comparative Politics, Journal of East Asian Studies, and International Relations of the Asia-Pacific among others. His other writings and media commentary have appeared in a variety of outlets including the Washington Post, New York Times, Wall Street Journal, Foreign Affairs, Foreign Policy, The Hill, The Dispatch, NPR, CNN, NBC, MSNBC, and BBC.
Dr. Yeo is a former term member of the Council on Foreign Relations and a member of the National Committee on North Korea. He was awarded the Young Faculty Scholar's Award from Catholic University in 2013. He is a two-time recipient of a U.S. Fulbright scholar award conducting research as a senior scholar in the Philippines in 2020 and as a graduate student in South Korea in 2005-2006. He received his Ph.D. in Government from Cornell University, and BA in Psychology and International Studies magna cum laude, from Northwestern University.
Honors and Appointments
Fulbright Grant, 2019
Director, Asian Studies Program, 2015 - present
Center for Strategic and International Studies, Washington Research Consortium on Korea, 2016-2021
Fellow, Institute for Policy Research and Catholic Studies, 2013 - present
Mansfield Foundation – Korean Foundation Next Generation Scholar, 2013-15
Young Faculty Award for Achievement in Research, Catholic University of America, 2013