Finishing the Fall
Dear Friends of the Politics Department,
Greetings! As we wrap up the fall semester, I wanted to share with you some recent department events as well as accomplishments by our faculty, students, and alumni. You can learn more on our news and events page and our Twitter and Instagram feeds as well.
Many of these were made possible by alumni donations to the department's Annual Fund. If you are interested in supporting the Fund or helping the department in other ways, you can learn more here.
May you all have a restful Christmas and a happy New Year's. If you have any items to contribute to our spring newsletter, please do not hesitate to send them to me (greenm@cua.edu). As always, Spaghetti (studying hard for his finals) wishes everyone Season's Greetings!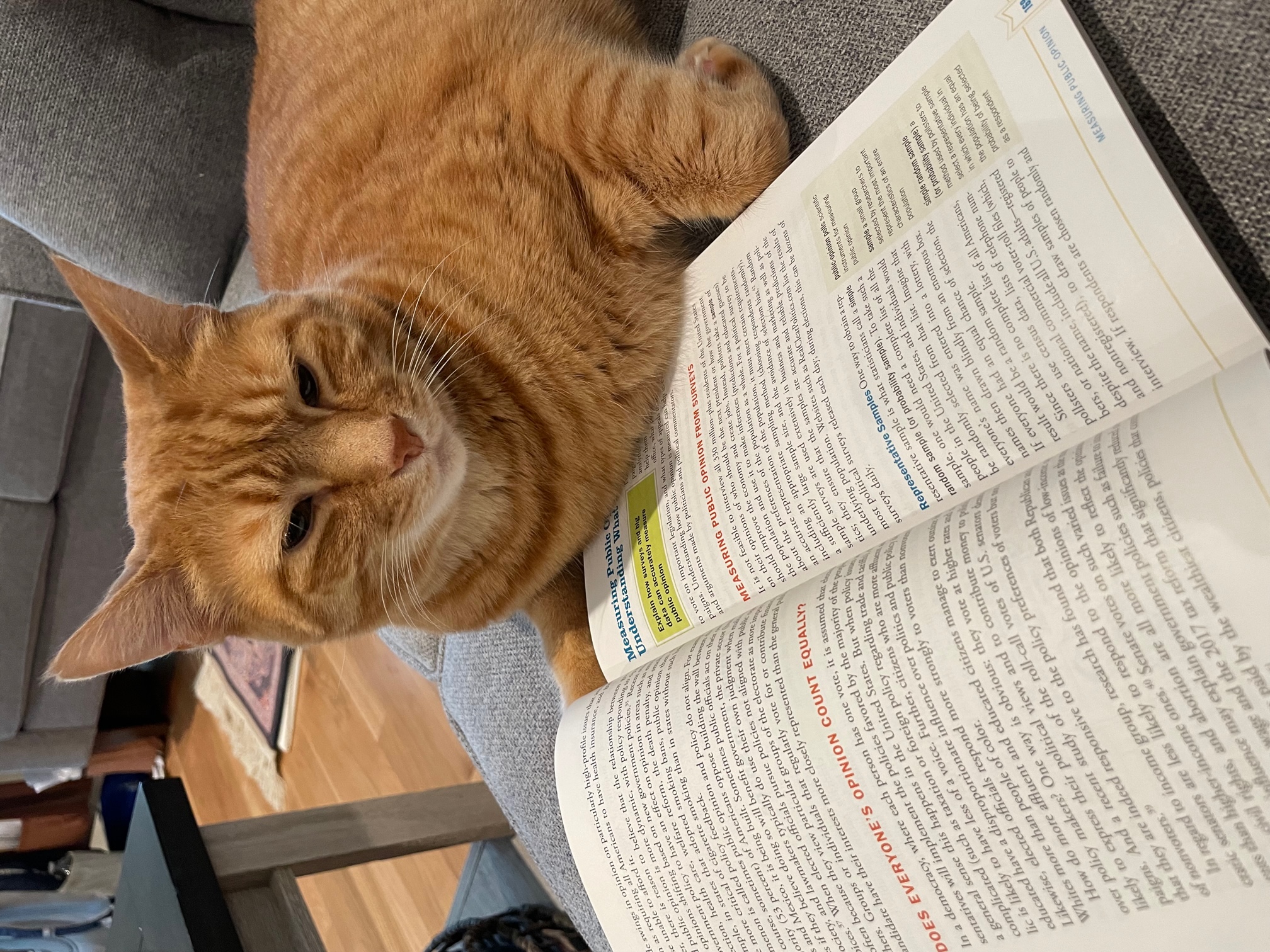 Matthew Green
Professor and Chair
Department of Politics
Helping Our Students
Are you an alumnus who would like to meet other alumni, or want to help a current politics student figure out their career options? CUA's new networking service Cardinal Connect allows students and alumni to connect, share their expertise, and help achieve their career goals. To learn more, click here.
Our Faculty
Recent faculty achievements include:
Campus Events
Professor Maryann Love was one of several panelists at a September panel entitled "Can America's wars be just?" at Curley Hall.
Professors Andrew Yeo and Maryann Love participated in a campus conference in October entitled "Breaking the Impasse to Advance Peace on the Korean Peninsula," which included a visiting delegation of bishops and government officials from South Korea.
Former CIA director Michael Morell offered insights from his extensive CIA career at a talk in October at Heritage Hall.
Student and Alumni Achievements
Kristin Davison (B.A. 2009) was awarded "Most Valuable Player of the Year" by the American Association of Political Consultants (AAPC) for her work as senior strategist on the Glenn Youngkin campaign for Virginia governor in 2021.
Chris Pierno (B.A. 2011) was featured in the CatholicU magazine as the new president of the Alumni Association.
Politics major Margaret Kelly was selected for the Spring 2023 Stipend Internship Program with the White House's Office of Management and Budget (OMB).
David Sollenberger (Ph.D 2018) joined the Philosophy Department at Penn State as an Assistant Teaching Professor.
Doctoral student (Clark) Aoqi Wu published "What a Cold War crisis over Taiwan could tell us about China-Russia relations today" in the Bulletin of Atomic Scientists and presented research at the Hoover Institution's Authoritarianism and Democratic Breakdown workship.
Kate Cunningham (B.A. 2009) and Hannah Chauvin (M.A. 2017) were featured in the CatholicU magazine for their successful pursuit of political careers in Washington, D.C. after graduating from Catholic.