Returning to Campus
Dear Friends of the Politics Department,
Hello and welcome to our fall 2021 department newsletter! This semester was a special one:  the decline in coronavirus cases allowed us to teach all of our classes on campus. I was especially glad to greet our incoming class and their families as department chair for the first time in person.
In this newsletter, you will learn about some of our department's activities and events this past semester, as well as the accomplishments of our faculty, students, and alumni, and a profile of one of our undergraduate students. I also encourage you to consult our news and events page and our Twitter and Instagram feeds to learn more about what our department has been up to. If you have any items to contribute to our spring newsletter, please do not hesitate to send them to me (greenm@cua.edu).
A number of our events are made possible by alumni donations to the department's Annual Fund. If you are interested in supporting the Fund or helping the department in other ways, you can learn more here.
I want to make special mention of Diana Rich, our long-time Director of Off-Campus programs, who is retiring at the end of this year. Dr. Rich has helped guide hundreds of students through our two MA programs on Capitol Hill, and she has taught many undergraduates as well. She will be greatly missed.
I hope you all have a peaceful Christmas and joyful New Year's. Spaghetti, the Zoom-bombing cat featured on C-SPAN, wishes everyone Season's Greetings!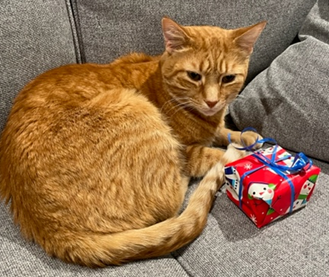 Matthew Green
Professor and Chair
Department of Politics 
Remembering Sir David Amess
The department was deeply saddened to learn of the death of Sir David Amess, a member the British Parliament, in mid-October. Over the years, Sir Amess had hosted numerous Catholic University politics majors as interns as part of the British Parliamentary Internship program. Below are photos and recollections shared by two politics alumni of their internships with Sir Amess.
Kristen Murphy Byrer (BA 2006): "Sir David Amess, MP was a kind and funny person who seemed to genuinely care about his constituents and truly wanted to help everyone. I lived in the UK and worked for MP Amess during the summer of 2005 study abroad session. It was an opportunity of a lifetime...During that summer, I visited Southend-on-Sea with my MP David Amess for a constituents' surgery, tabled a Prime Minister's question while Tony Blair was Prime Minister, saw London win their Olympic bid, met Jane Goodall, went to a reception in Winston Churchill's bunker under Whitehall, climbed the Elizabeth Tower to hear Big Ben chime noon, and ate fish and chips on the Southend Pier in Essex…He touched many peoples' lives, and I hope we can all continue to share David and his family's message of kindness and love."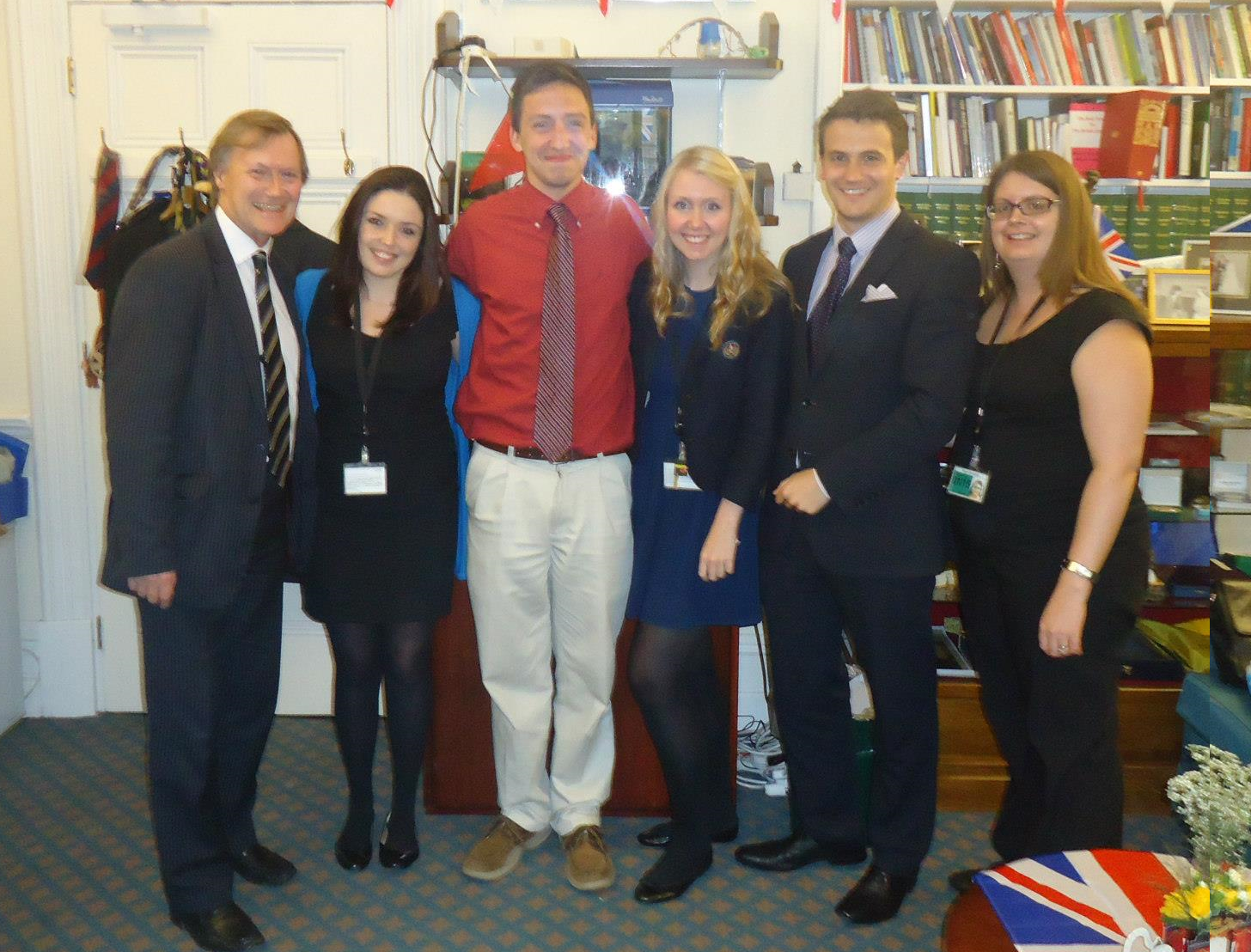 Bill Conlon (BA 2013): "I interned for Sir David Amess, MP in the Summer of 2012. He was a kind and generous man, quick with a joke and always willing to take me and my fellow interns under his wing…I'll never forget when Sir David took me to a reception in London. I printed out instructions and we got lost. David said "An American admitting he was lost? I never thought I'd see the day." He then asked for directions from a person nearby, who just happened to be Australian. I said to David, "A Brit asking an Australian for directions in London? I never thought I'd live to see the day." We both agreed to never speak of that day again."  
Student Profile: Abby Anger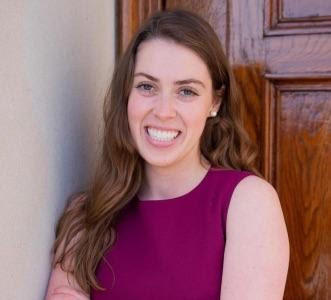 A senior from Mandeville, Louisiana, Abby Anger is a double major in Politics (with a world concentration) and Psychology with double minors in Hispanic Studies and Theology and Religious Studies. Abby has held an impressive six internships while at Catholic University, interning with House Minority Whip Steve Scalise (R-LA), Senate Majority Leader Chuck Schumer (D-NY), the Congressional Coalition on Adoption Institute, the Bipartisan Policy Center, National Law Center on Homelessness, and Teach for America.
According to Abby, her favorite course in the Politics Department has been Comparative Politics with Professor Jon Askonas. She enjoyed doing the research and writing for her final paper in the course, which focussed on environmental policy in India. The paper was later published in Inventio, the Undergraduate Research Journal at Catholic University.
Abby says her favorite experience in the Politics Department was during her freshman year with the Mentorship Program. Abby and her mentor developed a great friendship and still keep in touch. Upon graduation, Abby plans to be a full-time teacher in the Teach for America program in North Carolina.  
Achievements
Our students, faculty, and alumni notched many notable achievements in the fall of 2021.
Professor John Kenneth White published the chapter "A Nation in Crisis" in the edited volume The Presidential Election of 2020 (Lexington Press).
Professor Andrew Yeo published a new book entitled State, Society and Markets (Cambridge University Press).
Professor David Walsh's newest book, The Priority of the Person

, was the subject of a symposium in the journal

Perspectives on Political Science.
Ph.D. students Morgan Whitmer and Madeline Vennerstrom were both awarded

Richard M.

Weaver Fellowships (from the Intercollegiate Studies Institute) and Bradley Fellowships (from the Witherspoon Institute) for the 2021-22 academic year.

Adjunct Professor Lee Edwards was named to serve as Distinguished Lecturer for the School of Arts & Sciences to teach a spring semester course on politics of the 1960's.
This year's campus delegation to the Model United Nations received a Distinguished Delegation Award. Participating as delegates from Finland, the group included politics majors Jakob Ottaway-Velder and Alaina Smith (who both won Outstanding Position Paper Awards as well), Jordan Gehrig, John Desordi, Matthew Bubb, Will Walto, and Grace Blanchard.

Politics majors Philip Ahern

,

Mary Petito

, and

Brynn Reese

were featured in university profiles.

CUA alumnus Drack Bonhomme spoke at a webinar in October, sponsored by CUA's Institute for Policy Research and Catholic Studies, on the political challenges facing Haiti.
Another politics alum, former New Orleans mayor Mitch Landrieu, was appointed

Senior Advisor and Infrastructure Coordinator by President Joe Biden.
Recent Events
The department sponsored several events in the fall, and a number of our faculty, students, and alumni participated in university and departmental activities.