Why Study Intelligence?
Studying intelligence—the real work, not what you see on television or in the movies—is a unique and compelling way to learn about a cornerstone of our country's national defense and foreign policy. Students of intelligence learn how to assess U.S. intelligence based on facts, rather than fiction, and our instructors have decades of experience as former professional intelligence officers.
Knowledge about intelligence is highly valuable for anyone seeking a post-collegiate job in one of the eighteen member agencies of the U.S. intelligence community. It is also useful for students interested in any kind of government service career, especially in the federal executive branch (such as the National Security Council, the State Department, or the military) or as a congressional staffer. Our courses are designed to help students figure out what kinds of intelligence-related careers students are best suited to pursue. Intelligence agency recruiters have touted the advantages of taking intelligence courses, and especially in completing our Certificate in Intelligence Studies (see below).
Students participating in the program have been hired by agencies such as the Defense Intelligence Agency, the FBI, Air Force Intelligence, and Army intelligence. Others are in process for security clearances pursuant to employment in intelligence and related federal agencies. Recent graduates include one student who won a position as a civilian analyst in the Air Force against several hundred applicants, another who turned her FBI internship into a staff position working against domestic extremists, and a third who is in an Army intelligence unit.
Certificate in Intelligence Studies
At the center of the university's intelligence program is the interdisciplinary Certificate in Intelligence Studies, offered by the Politics department for students who seek a deeper understanding of the mysterious world of intelligence. It seeks to bridge the widely recognized gap between what new employees in the Intelligence community should know and what they typically do know. For detailed requirements of the certificate, click here.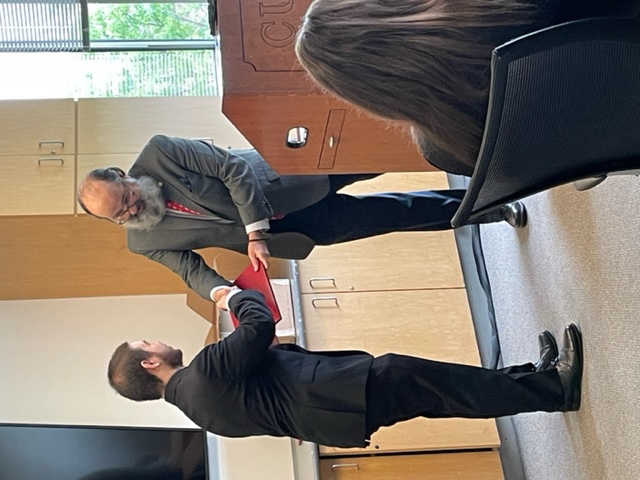 Other Events and Activities
Students enrolled in the Politics Department's intelligence courses have the opportunity to hear from former intelligence officers with a range of career experiences.  Senior U.S. intelligence officials who have been guest speakers in intelligence classes include Michael Morell, John Rizzo, General Michael Hayden, and Admiral William Studeman. The Intelligence Studies program has also hosted several panel discussions on topical subjects, such as the ethics of technical collection and the role of the media in intelligence accountability, and one panel of former CIA spy handlers (case officers) discussed "The Humanity of Espionage."
The University's award-winning Intelligence Club sponsors a number of events for students related to intelligence. It hosts a weekly event, "Conversation with a Intelligence Professional," featuring current and former intelligence officials – including recent alumni – discussing their work. The Club also sponsors field trips to federal agencies and other intelligence sites such as CIA, the FBI, the NSA museum, the National Reconnaissance Office, the National Geospatial-Intelligence Agency, and the International Spy Museum in Washington, D.C. In 2021, the Intelligence Club was named CUA's student organization of the year.
"At most, if not all, of [my job] interviews, the employer commented on how my Intelligence Certificate made my application stand out. These are both for jobs in and out of the Intelligence Community. I have gotten a couple of job offers, and when receiving the offers, every single one stated that my background in Intelligence Studies really helped them make their decision."
 -- Politics major, B.A. 2019